[ad_1]

U.S. Treasury Secretary Janet Yellen called out Russian officials attending the G20 meeting in Indonesia, telling them that they were contributing to the human and economic misery caused by the Kremlin's invasion of Ukraine.
Yellen directly addressed Russian finance officials Friday local time during her speech at the G20 summit underway on the island of Bali, reported Reuters. The confrontational remarks reflect the ongoing tension over Russia's invasion as representatives of the world's largest economies try to find common ground on inflation, energy costs and other pressing issues.
"You share responsibility for the innocent lives lost and the ongoing human and economic toll that the war is causing around the world," Yellen said during a meeting of G20 finance ministers and central bankers, directing her comments at Russian officials in attendance, according to Reuters.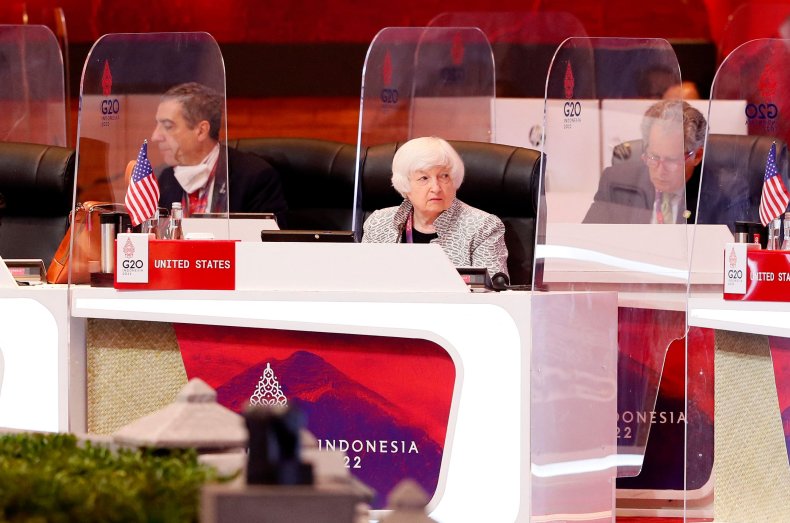 Yellen used the opening session of the G20 summit to say that Russia alone was to blame for negative economic impacts of the war, reported Reuters. She said the Russian officials taking part in the summit were "adding to the horrific consequences of this war through their continued support of the Putin regime," according to Reuters.
President Joe Biden and other U.S. officials have blamed Russian President Vladimir Putin's invasion of Ukraine for driving up the cost of energy and having a ripple effect on already historically high inflation.
Western leaders and the United Nations have also raised alarms that Russian warships blockading Ukrainian ports are preventing the export of grain and contributing to a global food crisis.
Indonesian Finance Minister Sri Mulyani Indrawati said at the summit that low-income countries faced particular challenges worsened by the war in Ukraine and the COVID-19 pandemic. She said that millions more risked being put into a state of food insecurity by rising prices, and the world risked social unrest if it didn't address global inflation.
Speaking at a press conference Thursday ahead of the G20, Yellen condemned "Russia's illegal, unprovoked war against Ukraine" and its economic fallout.
"We're seeing negative spillover effects from that war in every corner of the world, particularly with respect to higher energy prices, and rising food insecurity," she said.
Yellen said the effects of the war were reflected in the consumer price index released Wednesday that showed inflation surged by 9.1 percent in June.
"Representatives of the Putin regime have no place in this forum," said Yellen, who added that she was looking forward to welcoming Ukraine's finance minister to the summit.
As relations have remained frosty between Moscow and Washington, Secretary of State Antony Blinken didn't meet with his Russian counterpart Sergei Lavrov as G20 foreign ministers gathered in Bali.
Newsweek has reached out to the Russian government for comment.


[ad_2]

Source link